Lavender Festa Kamifurano
A new event to color the summer of Kamifurano "Lavender Festa Kamifurano 2022" It has been 41 years since lavender became a flower in Kamifurano Town. You can enjoy the flowers of the town, which has been popular not only among the townspeople but also all over Japan and overseas, for a limited time this year as well as at night. This year, we will open a booth where you can enjoy beer using hops and barley from Kamifurano for one day only. Why don't you enjoy the magnificent panorama of lavender that is brilliantly colored with fantastic lighting?
Event Calendar
Lightingup Event
During the event, you can see illumination of lavender around sightseeing tower at night, and can walk across the illumination at lavender farm in Hinode Park.
We will hold live streaming on YouTube at 17th night. If you cannot come to Kamifurano Town in person, please enjoy the experience through YouTube.
[Stream live on Opening Ceremony]
9th July Sat.
Broadcasting the lighting ceremony of the illuminations.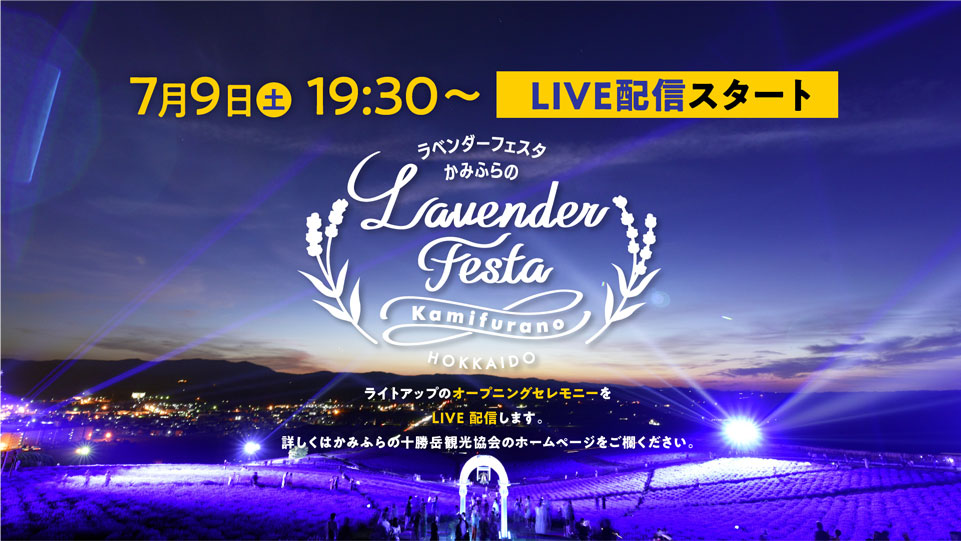 ---
[Stream live]
17th July Sun.
We are planning to hold live of Yui Makino, Kamifurano Tourism Ambassador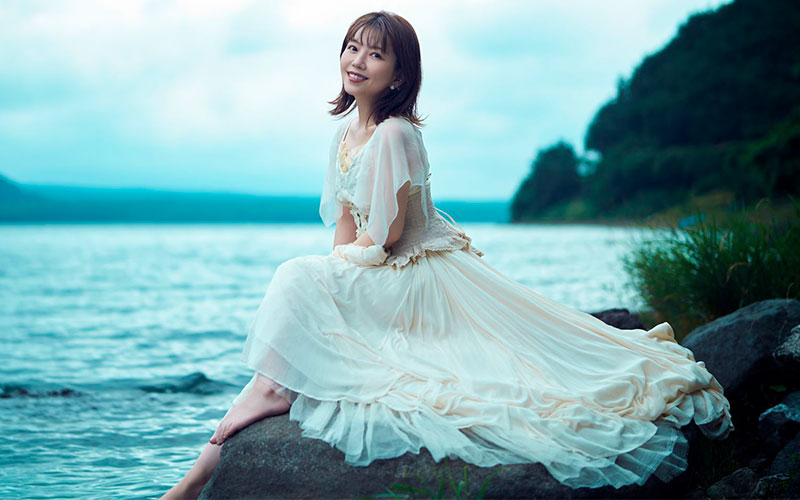 Subject to change due to circumstances. Please note.
During the mini-live performance, photography and video recording are strictly prohibited in the venue.
If you can't come to the venue, check out the live stream!
Yui Makino's appearance, which was scheduled for July 17, may be a close contact with the new coronavirus, so we have decided not to do so. Thank you to everyone who was looking forward to the appearance, and thank you for your understanding. We would like to inform you that the 25th anniversary ceremony of the friendship city with Tsu City, Mie Prefecture will be held as scheduled.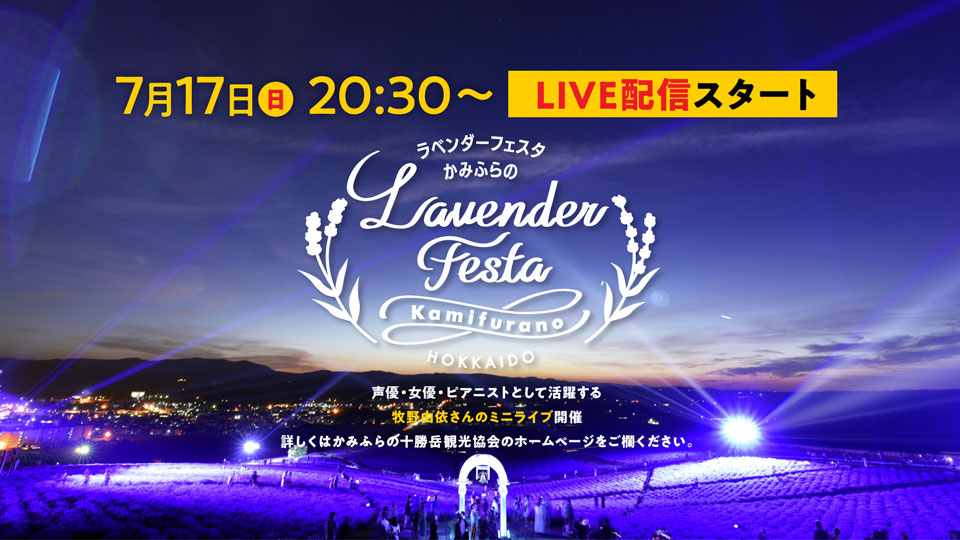 Access
If the Hinode Park parking lot is full on July 17th (Sunday) and the final day of July 18th (Monday / holiday), please use the temporary parking lot and the free shuttle bus..
From 17:00 to 22:00 on July 17th (Sunday) and the last day of July 18th (Monday / holiday), the road in front of Hinode Park will be one-way.
From 19:30 to 22:00, two buses will go around the C Hinode Park parking lot, the D park golf parking lot, and the B station back parking lot. It is free of charge.
After getting off at Hinode Park parking lot, walk to the venue on foot, or use a taxi to the mountaintop (620 yen per car) that is resident next to the parking lot.
Information Map
Infection Prevention
Kamifurano Town is thoroughly taking counter measures against the covid-19 for this event. Thank you for your understanding and cooperation on this matter as follows.
We may change the schedule, or limit the number of entries as needed depending on the pandemic.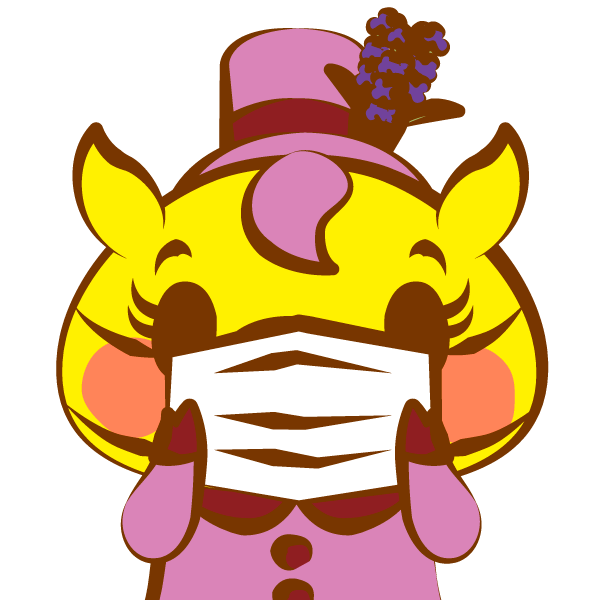 [Wearing a mask]
Please wear a mask in the park.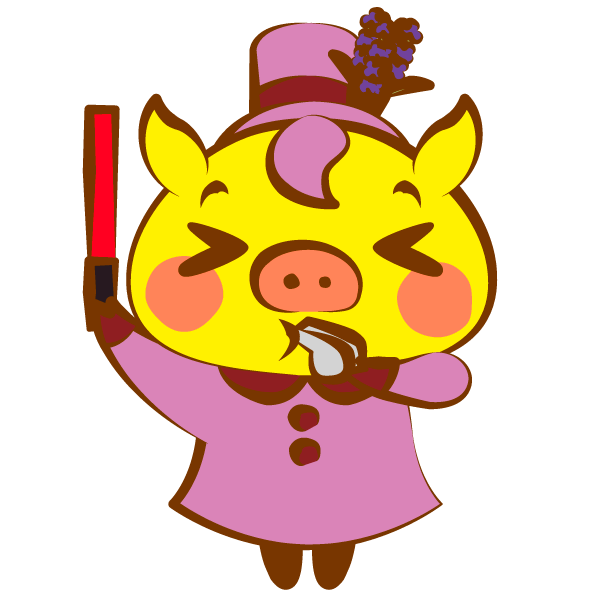 [Restricted admission for avoiding congestion]
There is a possibility of restricted admission for avoiding congestion temporary.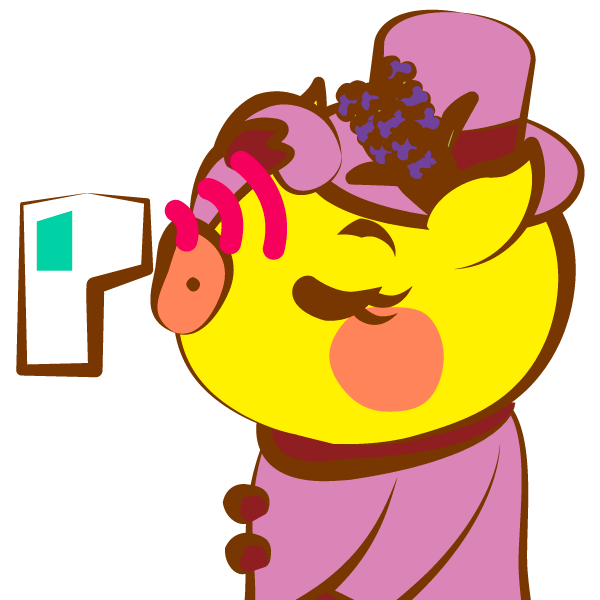 [Health Check]
We appreciate your cooperation on taking your temperature in the event conducted by staff.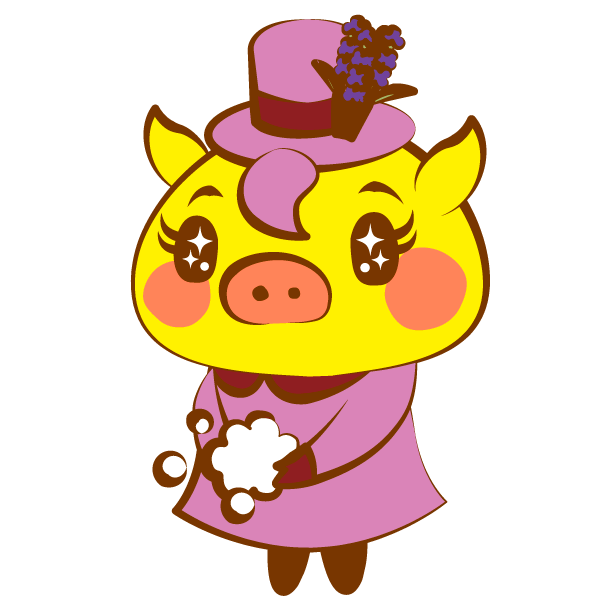 [Hand Sanitizer]
Please use hand sanitizer before entering the park.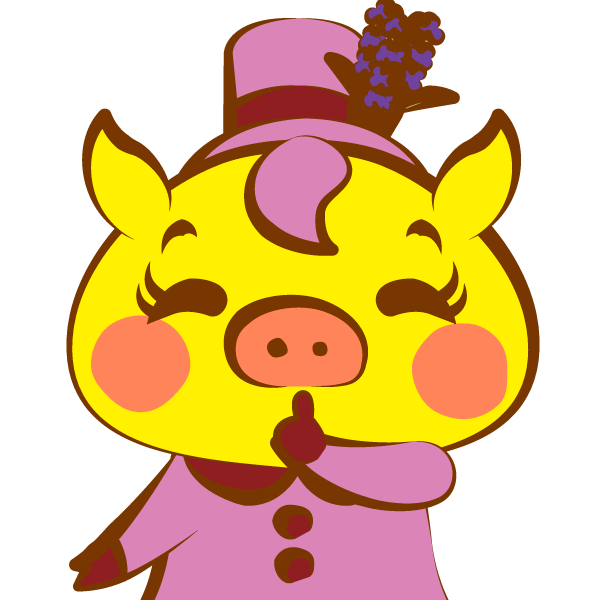 [Quite Walk, Appreciation, and Impression]
Please refrain from talking loudly in the park.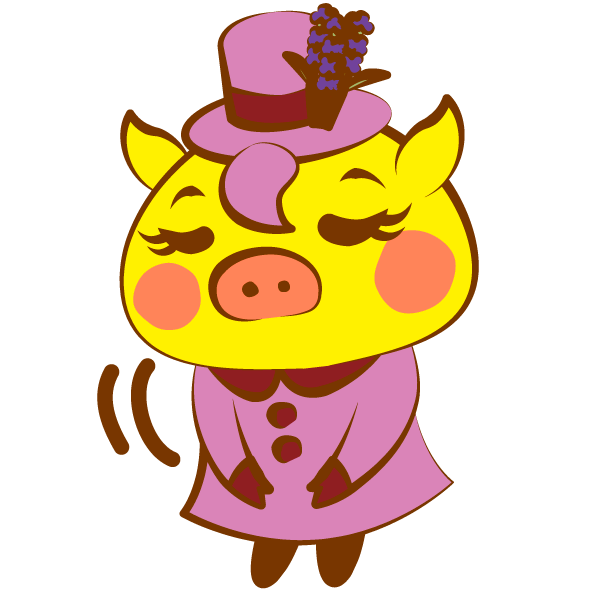 [Request by event staff]
There are some circumstances staffs may guide you for avoiding congestion. Thank you in advance of your help.
Contact us
Please don't hesitate to contact us with any further queries.
Administration department of Lavender Festa(Kamifurano Townhall Kikaku Shoko Kanko dept)
Tel. 0167-45-6983