Kamifurano Footpath
上富良野フットパス
16,250 views
"Splendor of the natural scenery that can only be discovered by walking"
The word footpath originating in Britain means a path where people can enjoy forests, grassland, fields and other rural areas and old streets on foot.
Footpaths are attracting attention in Japan for maintenance of health and physical ability, as well as for renewing awareness of nature surrounding us and raising environment-consciousness. The process of planning and establishing footpath courses as a regional effort has led to rediscovery of regional attractions, such as nature, landscape, culture and history.
Kamifurano has a number of footpath courses, where many footpath fans take time and enjoy Kamifurano in its natural state, while viewing the Tokachi-dake mountain range and rural scenery.
Senbo Toge Path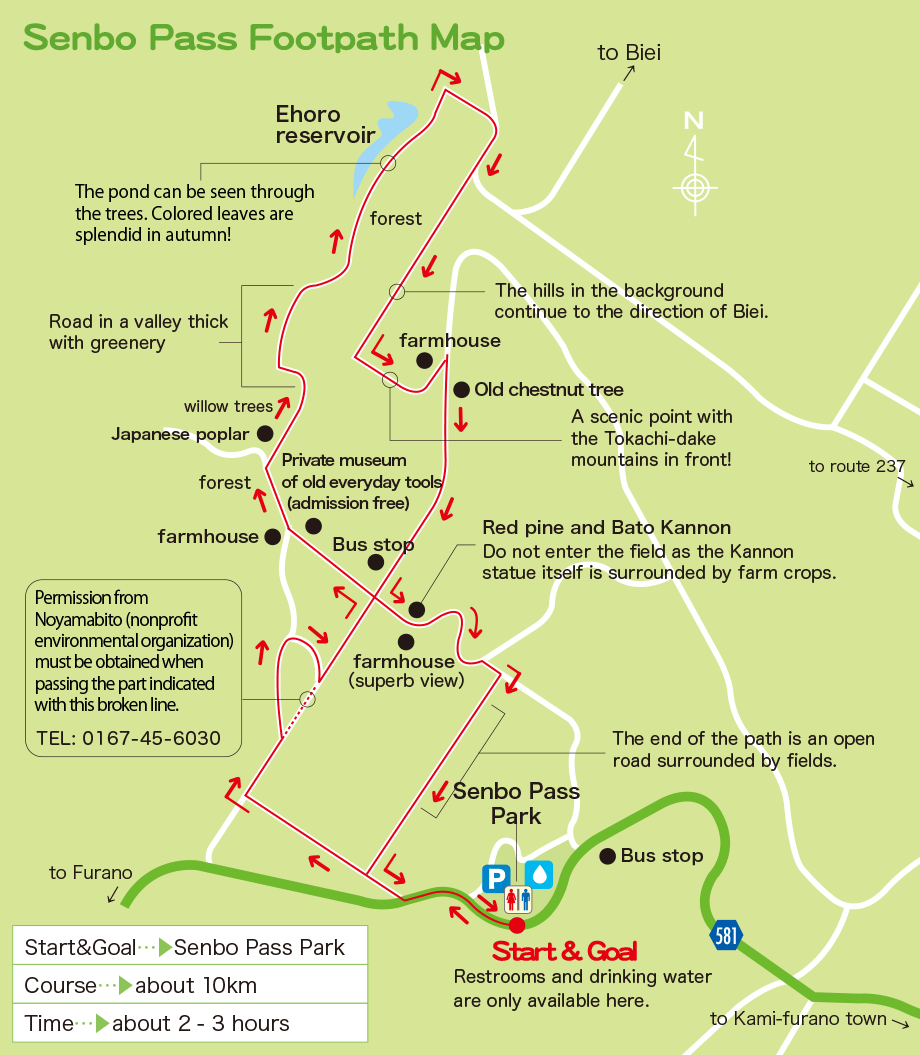 The Senbo Toge Path that runs around Senbo Pass Parking Park and the Ehoro reservoir has been chosen as one of a hundred attractive roads in Hokkaido. After heading west from the park and driving for a while to the left from the crossroads of Ehana Nishi 8-sen, there is a warehouse open to the public for free by a farming household, where old tractors and engines can be viewed. Wild birds can be observed in the forest along the streak leading to the Ehoro reservoir. Ducks are often seen in the reservoir. You will get to a paved road soon after the halfway point, but be careful as visibility from the car is poor. If you are walking in forests or valleys, there are several points where the visual range suddenly becomes wide and the panorama of the Taisetsu mountain system spreads in front of the eyes. A stone monument of Bato Kanzenon Bosatsu, which enshrines farm horses that played an important role in the development of Hokkaido and were treated like family members, reminds us of the frontier period.
Tokachi-dake Path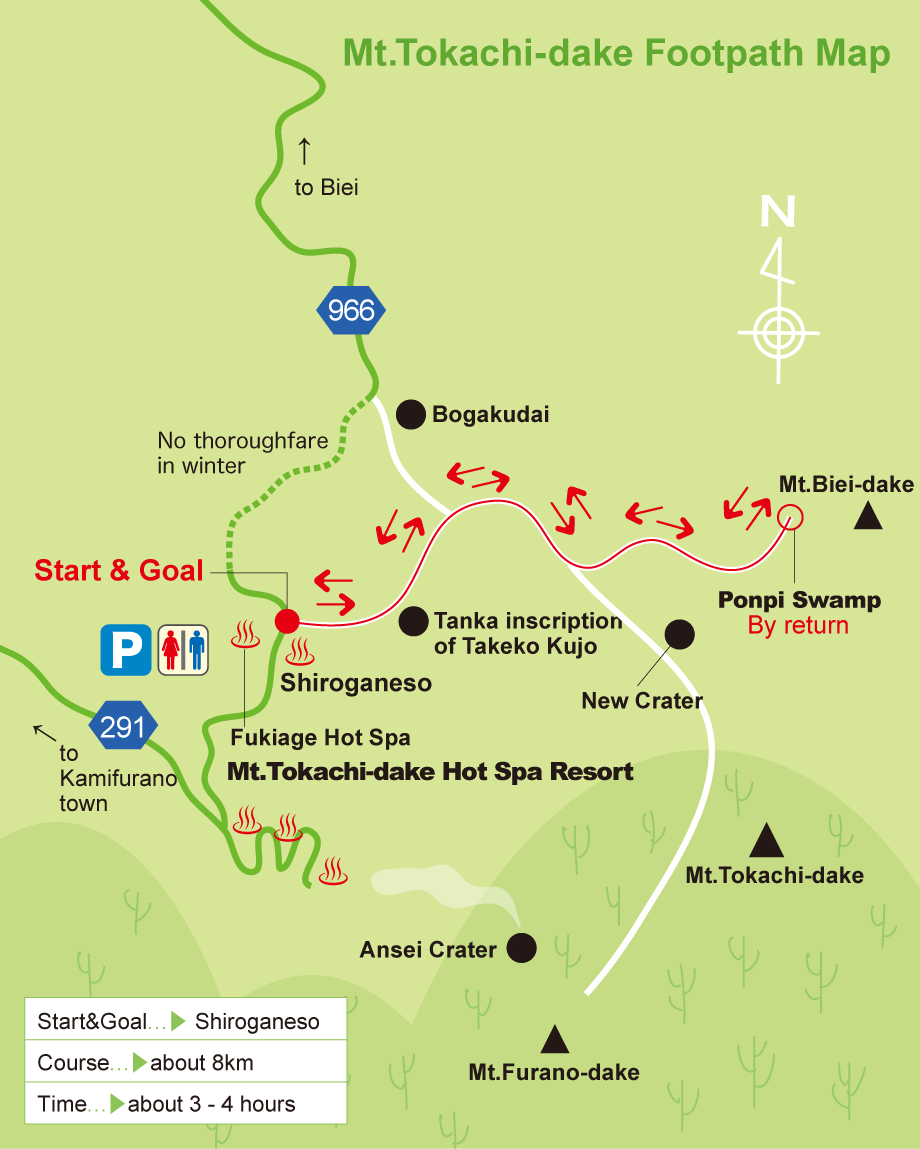 It is a course running from Hakugin-so to Ponpi valley via a mountain trail and returning to Hakugin-so. Although it passes through a mountainous area, the slope is relatively gentle. In summer, the area is covered with flowers of Blue mountainheath, Ukonutsugi (Macrodiervilla middendorffiana) and various other alpine plants. The course is recommended for those who like hot springs as they can bathe or rest in the Tokachi-dake Hot Spring Resort after arriving at the goal. Remember to bring warm clothes as the altitude is high.
Flower Land Path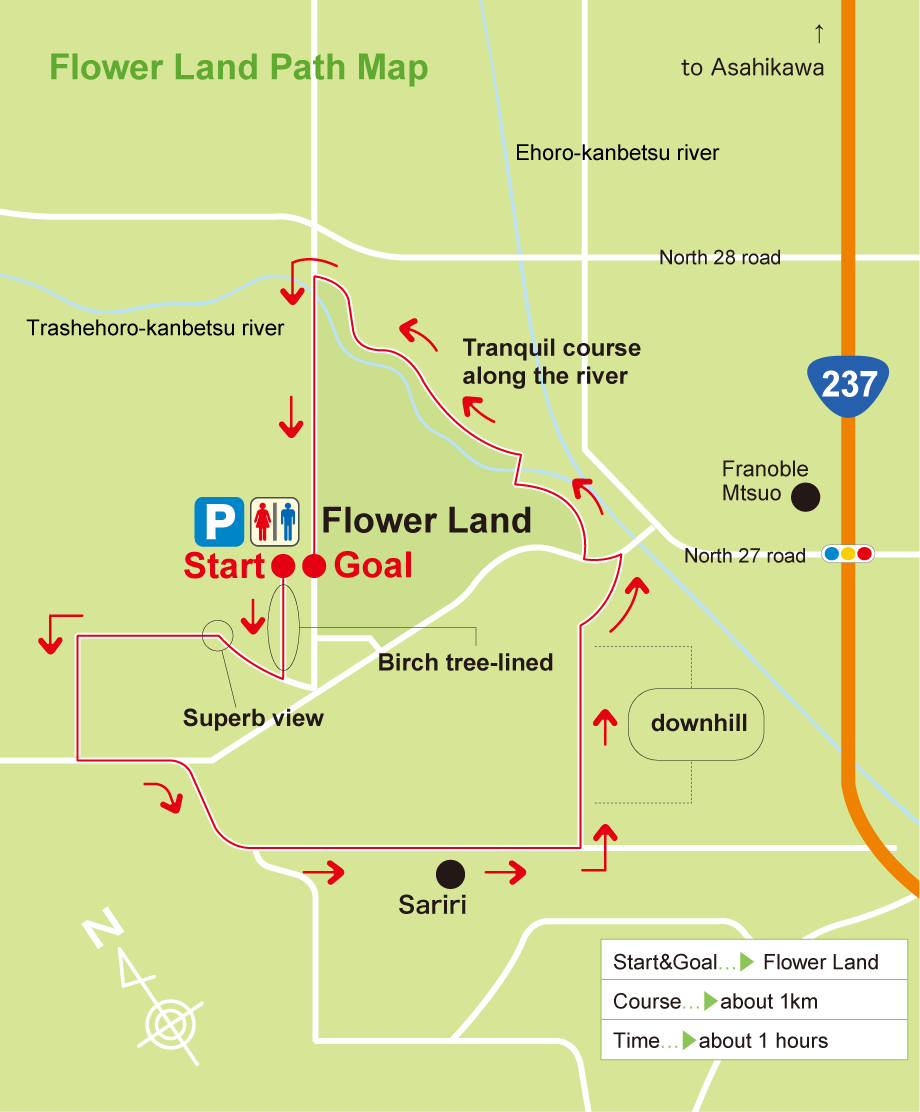 The footpath runs around the Flower Land Kamifurano tourist farm. As it is short, it is recommended for those who are not confident enough to walk a long distance or who walk two courses in one day. The splendid view of the hills and Tokachi-dake mountain range beyond the field of flowers is unique to this course. It is also fun to walk the tranquil riverside path while hearing the murmur of the stream.