Mt. Tokachi-dake trekking course
十勝岳登山コース
31,652 views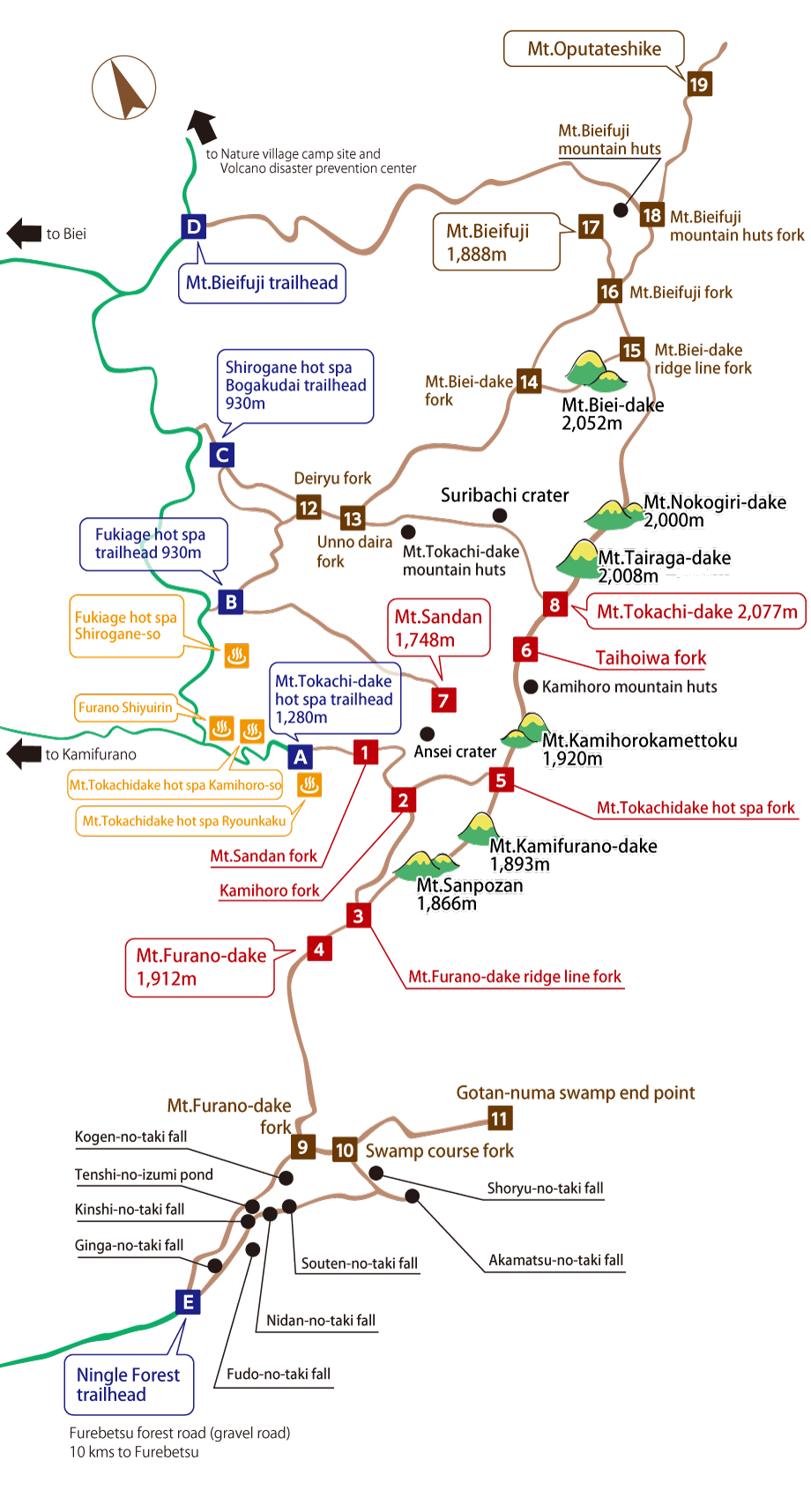 As you drive to the east from downtown Kamifurano, the imposing view of the Tokachi-dake mountain range gradually becomes larger. The forest scenery changes from white birch to Erman's birch and then Sakhalin spruce trees come into the view. Alpine plants can be enjoyed after the end of the road surrounded by creeping pine trees.
Mt. Tokachi-dake course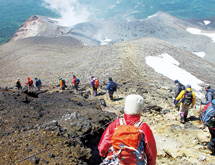 Volcanic activity still continues on Mt. Tokachi-dake, which is the highest peak of the Tokachi-dake mountain range of the Daisetsu mountain system.
It is a course to climb to the summit of Mt. Tokachi-dake via Mt. Kamifurano-dake and Mt. Kamihorokamettoku while enjoying the dynamic view of the active volcano. The summit commands a panoramic view of the surrounding mountains and the town spreading around them.
| | |
| --- | --- |
| Course time | Round-trip about 7 hours |
| Elevation | 2,077m |
A
Mt.Tokachi-dake hot spa trailhead
1
Mt.Sandan fork
2
Kamihoro fork
5
Mt.Tokachidake hot spa fork
6
Taihoiwa fork
8
Mt.Tokachi-dake
Mt. Sandan course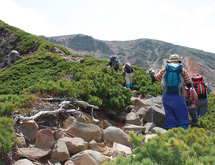 The view of Mt. Kamihorokamettoku and Mt. Tokachi-dake from the summit is superb.
The summit is also the best point to look at the autumn leaves on Mt. Tokachi-dake. The mountain attracts many skiers as a popular destination for backcountry skiing.
| | |
| --- | --- |
| Course time | Round-trip about 4 hours |
| Elevation | 1,748m |
B
Fukiage hot spa trailhead
7
Mt.Sandan
Mt. Furano-dake course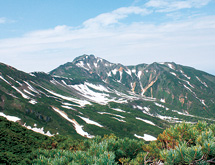 Mt. Furano-dake is the southernmost peak of the Tokachi-dake mountain range. In the mountain known for abundant alpine plants, trekkers can enjoy both the scenery and natural features. From the summit, the magnificent Genshi-ga-hara marsh and Genshi-no-mori forest at its foot can be viewed with the naked eye.
| | |
| --- | --- |
| Course time | Round-trip about 6 hours |
| Elevation | 1,912m |
A
Mt.Tokachi-dake hot spa trailhead
1
Mt.Sandan fork
2
Kamihoro fork
3
Mt.Furano-dake ridge line fork
4
Mt.Furano-dake
Mt.Kamifurano-dake course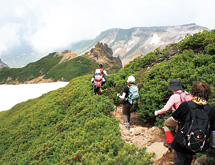 The mountain (1,893 m) was named Kamifurano-dake and this course was opened in 1997 to commemorate the centennial of Kamifurano Town. With Mt.Furano-dake (1,912 m) to its south, the top of the course commands a view of these two imposing mountains and overlooks a panorama of Furano Basin.
| | |
| --- | --- |
| Course time | Round-trip about 5 hours |
| Elevation | 1,893m |
A
Mt.Tokachi-dake hot spa trailhead
1
Mt.Sandan fork
2
Kamihoro fork
Mt.Kamifurano-dake
Ansei crater course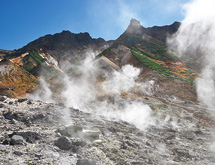 It is said that the crater emitting white fumarolic gas erupted in the Ansei period. The course passes Mt. Sandan fork 900 m ahead of the Tokachi-dake Onsen trailhead and leads to the crater 1,400 m above sea level. Taking only about two hours, it is an easy course even for beginners.
| | |
| --- | --- |
| Course time | Round-trip about 2 hours |
| Elevation | Crater of about 1,400m point |
A
Mt.Tokachi-dake hot spa trailhead
1
Mt.Sandan fork
Ansei crater
Mountain huts/restrooms

As mountain huts are often crowded in summer, tents are a must-have for those traveling in groups. Hut users are advised to share spaces with each other without taking up room by spreading their belongings.
Where to submit the climber registration form
Climbing plan submission
The Hokkaido Prefectural Police
Asahikawa department Regional Division

1 jo 25 chome, Asahikawa Hokkaido Japan 078-8511
TEL 0166-35-0110

The competent police and relevant departments

Furano Police Station
Wakaba-cho 11 -1, Furano, Hokkaido Japan
TEL 0167-22-0110
Kamifurano Police Box
Miyamachi 1-1, Kamifurano-cho, Hokkaido Japan
TEL 0167-45-2039
Asahikawa Higashi Police Station
1 jo 25 chome, Asahikawa, Hokkaido Japan
TEL 0166-34-0110
Biei Police Box
Nakamachi 4 chome 4, Biei, Hokkaido Japan
TEL 0166-92-2036
Advice for enjoying mountain climbing
In addition to the climber registration form to submit to the police station, the forest entry notification form must be submitted to the official local forestry office as there are national forests in the entire area. The notification procedure is simplified for the convenience of climbers. Be sure to fill out the form and put it in the notification box placed near each trailhead.
Carry your belongings in your bag and keep your hands free so that you can respond quickly if you lose balance.
As the weather is changeable in the mountains, bring some spare clothes (e.g., sweater, underwear) even in the warm season.
Be sure also to bring rain gear even on a sunny day as it can be used to avoid wind or rain, keep yourself warm and for many other purposes at times of emergencies.
It is best to wear comfortable shoes with thick soles, deep grooves and tight shanks. As new shoes may cause blisters and ruin the fun of mountain climbing, be sure to break in your shoes in advance.
Adjust the layers of clothes frequently depending on the temperature and intensity of activity to maintain an appropriate body temperature and avoid extra fatigue.
To avoid irritating the digestive system and prevent poor health conditions, eat and drink frequently and in small amounts.
It is critical to know your location in poor visibility due to fog or other reasons. Be sure to check the direction, landmark objects and location constantly using a compass and map and keep records frequently while you are in action.
Mountain huts and guideposts are a lifeline for climbers. Damaging them for fun is out of question. Be prepared to perform emergency repairs when you find any damage caused by wind, rain or snow.
Alpine plants live with all their might in the harsh environment. Be careful not to trample them by walking off the footpath or sit on them when you rest. It is prohibited to pick them or dig them up to take home.
Leftover food, empty cans, wrapping paper and other things may be used as food, a container or fuel at times of emergencies. To keep the Tokachi-dake mountain range clean, do not leave them in the mountains.
To prevent forest fires, smoke at appropriate places and carry a portable ash tray to avoid littering of cigarette butts. Building fires in the national park is strictly prohibited. Handle fire with care.
If you receive any advice or warning from mountain patrol members, other management workers or climbers, listen to them carefully.
The Tokachi-dake mountain range and other mountains in Hokkaido have severe weather conditions equivalent to those of 3,000-meter or higher mountains in central Honshu due to the difference in latitude. Activity standards and climbing plans should not be based solely on the altitude.
Take sufficient care when passing snowy gorges as they may have holes, sudden changes in height at edges, thin and weak parts and other dangerous sections.
Refrain from using flags, whistles or flickering lights or shouting in loud voices as they may be mistaken for distress signals.