Northern Daimonji Wildfire Festa
北の大文字 Happy New Year!
15,537 views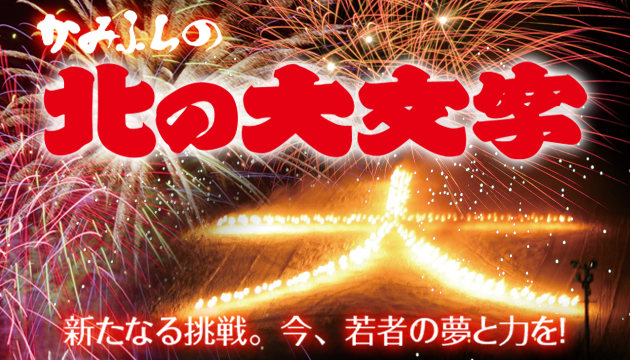 New Year's Day, at 0 am, iron-pile placed in the letter "大" which is 70 meters in length and 50 meters in width, in the Hinode park covered with snow overlooking Kamifurano Town The godfire runner which ignited from Kamifurano Shrine to about 300 pieces。 The fire is transferred one after another and emerges on the dark slope of snow all over. That is really fantastic.
Address
日の出公園
北海道空知郡上富良野町東1線北27号
Hinode Park
27, Higashi-nisen-kita, Kamifurano, Sorachi-gun, Hokkaido
Access
15 minutes walk from JR Kamifurano station. (3 minutes by taxi)
Open Hours
1 January 2018 to December 31, 2017.
23:00~00:40
Parking
Hinode Park parking area and near parking space
Map