Flowering season information
ラベンダー開花、見頃情報
19,973 views
No.3 Koimurasaki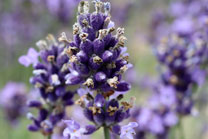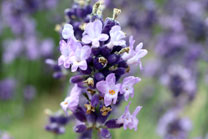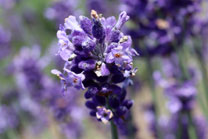 No.4 Okamurasaki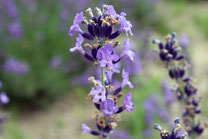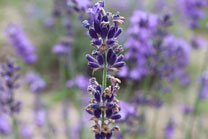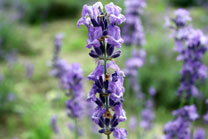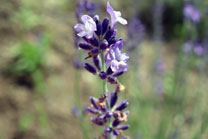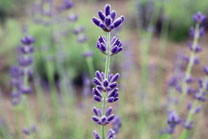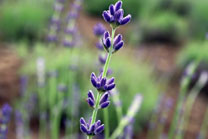 The lavender flowering conditions in Hinode Park are indicated by the "flowering level index" from around June to the harvesting season every year. The peak season is between mid- and late July (subject to change slightly by weather).
How to read the lavender flowering level index
Not the flowering season
Stems and spikes still covered with wooly hairs
Just before the flowering season with entire spikes turning purple
Several purple flowers beginning to bloom from the tips of buds (beginning of the peak season)
The purple color turning deeper and half of spikes in bloom (peak season)
Most flowers in full bloom covering fields entirely like a purple carpet (peak season)
History of lavender
Lavender, which is now a tourist attraction crop symbolic of Hokkaido's summer, used to be cultivated over a wide area in the prefecture as a specialty crop. Today, lavender is cultivated mainly in the Furano region, including here in Kamifurano, for tourist attraction, ornamental purposes and production of lavender products.
In Kamifurano, which is known as a "lavender town" nationwide, cultivation is continued and the use of lavender and lavender gardens as tourist attractions are being promoted.
What is lavender?
Lavender is a perennial evergreen shrub of the family Labiatae native to the Mediterranean coast. Its scientific name is Lavandula, which is said to be derived from the word "lavo" (wash) in Latin.
Lavender is cultivated throughout the world, including South Provence in France, the Mediterranean coast, Tasmania in Australia, New Zealand, the Canary Islands, India, Chile and Argentina in South America, Canada, China and UK. Lavender is cultivated in many parts of Japan, in addition to the main cultivation area in the Furano region including Kamifurano, in lavender gardens and as a representative plant in herb gardens.
Origin of lavender in Japan
In 1937, Soda Aromatic Co., Ltd. obtained 5 kg of lavender seeds from Antoine Viale, Co. in France and conducted trial cultivation at agricultural experiment stations in Chiba, Okayama and Hokkaido and the company's Sapporo plant. As a result, Hokkaido was found to be a suitable area in Japan for the growth of the plant, which was regarded as a specialty of France. Cultivation and distillation began in Minamisawa in the suburbs of Sapporo and Hattari Village (Kyowa Town) in Iwanai-gun. Although the company was compelled to convert crops during World War II as the expansion of food production was an unconditional command, a minimum number of superior varieties were selected and preserved to resume cultivation after the war.
The connection between Kamifurano and lavender began when Miichi Ueda, Shintaro Ota and Fujio Iwasaki read the articles entitled "Pale purple flowers of aromatic plant lavender on early summer hills are quite poetic" in the Nogyo Asahi magazine and "Lavender is a crop suited to Hokkaido" in the Hokkaido Shimbun newspaper. They had discussions with each other and then with the manager of Soda Aroma's Sapporo plant, about lavender cultivation in 1947. After the first entrusted cultivation began in 1948, lavender spread throughout Hokkaido as a recommended specialty crop of the prefecture. The cultivation area was 85 hectares in Kamifurano and a total of 235 hectares in Hokkaido at its peak.
Lavender varieties
Lavender varieties can be divided roughly into true lavender, spike lavender and lavandin, which is a hybrid of the former two varieties. Currently, true lavender is mainly cultivated in Japan.
Lavender grown from the seeds obtained by Soda Aroma included many different stocks with diverse characteristics. The number of each type of stock was increased by planting cuttings and varieties were sorted and fixed while comparing their yield and aromatic quality. As a result of a comparative test conducted by the Hokkaido Prefectural Agricultural Experiment Station, four cultivators were eventually selected, based on seedlings numbered 1 to 4. Because of these facts, it is assumed that lavender varieties that are mainly cultivated in Japan were selected based on cultivation conditions, yield and aromatic quality, and not by improving existing breeds.